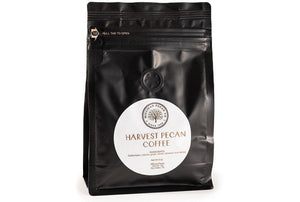 Wake up in the morning smelling the rich aroma of a warm cup of Harvest Pecan Coffee. This delicious blend of coffee beans, ginger, cloves, cinnamon, and nutmeg gives it a natural pumpkin spice flavor and aroma.  This coffee is wonderfully made for Fall and Winter seasons or can be enjoyed year round for those who love to think of Fall any month of the year.  With Millican Pecan, you will enjoy coffees made to bring out gourmet flavors that will tantalize your pallet.

These ground coffee beans contain pieces of pecans ground with them. Try our other bold flavors. Try all of our other bold flavors.
Note: This coffee is a rich Colombian coffee with a medium city roast.  With most coffee makers you will only need 1 Tablespoon of coffee for each 12 oz of water.  If you are using a Keurig coffee maker with the filter option, use slightly less than 1 Tbs for the "Select 4, Strong, 10oz" option.  If your coffee appears bitter, you have used too much coffee.  This coffee blends well with oat creamer.
■ Gluten Free
#HarvestPecan #HarvestPecanCoffee #PecanCoffee #PumpkinSpiceCoffee