Millican Pecan

Delicious Orchard Fresh Pecans Since 1888
Lower 48 States... $8.99 Flat Shipping | Free Shipping $99 or more
Our Signature Products
Creamy Pecan Butter... This is one of the products our customers continue to buy year round.  Simple ingredients; only pecans and a little salt.  This jar is loaded with nutrition for your morning.  Put it on toast or just grab a spoonful on the run.  And further note, doctors nationwide recommend our pecan butter to their patients who have peanut and walnut allergies because our orchard kitchen is one of the few kitchens in the U.S. that only processes pecans!
Butter Pecan Coffee...  Add this one to your order and find out why our customers buy this blend in carton quantities.  Perfect for your morning or at the office...  a delicious decadent flavor that will satiate your coffee craving!
Dark or Milk Chocolate Caramillicans... Similar to the popular turtles, these pecan treats are loaded with chocolate, caramel, and of course, pecans! Whether treating yourself or someone special, these gift boxes are a great choice!
Find out why these Signature Products are so popular at our Farmer's Markets throughout the year!
Learn more about our signature products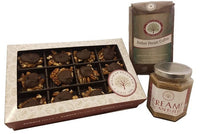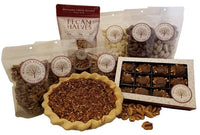 Raising Funds?
Need to raise funds for your church, school, or organization? Try our nationally recognized program on FUNDRAISING.
Tell me more about fundraising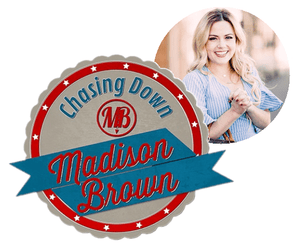 Featured on Chasing Down Madison Brown
Many TV shows want to feature our historical Texas Pecan Mother Orchard.  Madison did a fabulous job showing our Millican family history and the orchard where it all began... and the rest is history!
View Video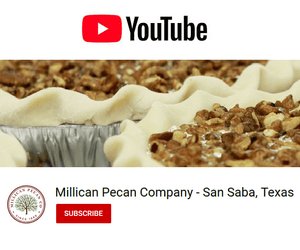 Featured in many YouTube Videos
Check out our library of YouTube videos and feel free to subscribe to receive our latest content.  From farming to shelling to baking to historical facts... we have a lot there for you to view!
View Videos
Location
Our store
199 County Road 100
San Saba, TX  76877
Monday, 9am - 5pm
Tuesday, 9am - 5pm
Wednesday, 9am - 5pm
Thursday, 9am - 5pm
Friday, 9am - 5pm