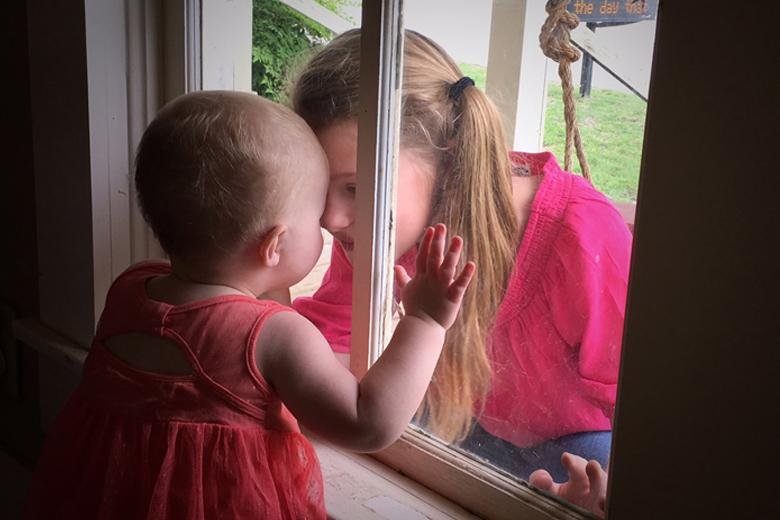 I've been thinking about all the good in our lives. Lately, as we've been reflecting on Allison's health issues I can't help but feel the necessity to mention that she's been blessed with good health in recent months. Today is Good Friday, which seems like a really appropriate day to write about such a subject. If you've been following our posts the last few weeks then you know that we had the unpleasant experience of making the hospital our home for several months this last year. And while I only first labeled my daughter as "healthy" a little over two months ago I can't fail to acknowledge that it's in fact been five months since we last rushed her to the hospital.
A Turning Point to Good Health
Our third trip to the hospital was pure exhaustion. We had been home for two days since being released from our second stay in the hospital. When I woke up in the middle of the night to feed Allison I immediately noticed how hot she felt. Upon taking her temperature I fell prey to the routine that we had gotten used to. Allison was not even two months old and we had spent more time in the hospital with her than we had at home. Winston was certain that her first word would be "nurse" and at this rate I couldn't argue with him. But that third trip to the hospital ended up being a turning point in Allison's health.
After fifteen days in the hospital she finally had her first surgery. We were unquestionably concerned about our child undergoing a surgical procedure, but it ended up being the very thing that her tiny body needed to relieve her kidneys from the constant infections she was experiencing. And even though we had to rush her to the hospital two more times even after the surgery, they were much shorter stays with more time in between each trip. And most importantly, the diagnosis at each stay was an easier treatment than the previous UTIs she had.
The doctors prepared us for what was likely in our future. More trips to the hospital. The surgery was a much needed solution to Allison's infection problems, but we would likely be coming back. There would likely be another infection and probably within the next six months. It wasn't until this last week that I realized we've been home for a solid five months.
Surgery Postponed
Allison has a standing appointment scheduled with her surgeon every three months. We were planning for a second surgery in February of this year. But when we went for her appointment at the end of January they informed us that they decided to hold off on her surgery. The ultrasound revealed that her kidneys were much clearer and that the one smaller kidney had caught up in size with the other one. It was, perhaps, the last thing that her surgeon said that caught my attention the most. "Her kidneys have increased in size and are now an average size for her age."
"Average". Most of the time we want our kids to be anything BUT average. But when I heard them say "average" a feeling of excitement came over me. In that moment that's what I wanted for my daughter. I didn't want her to have to undergo any more blood draws, catheters or spinal taps. And to be quite honest, I was overwhelmed by the entourage of new words added to my vocabulary.
Light-hearted conversations that I usually had with my husband were now replaced with words like "PICC line", "vesicostomy", "VCUG",  and "klebsiella". And for once, I was finally hearing a word that made me feel like maybe, just maybe, Allison would have a normal life. After all, "normal" in my mind translated to "good health" and the more the surgeon talked the more I realized that our daughter was on her way to good health.
Blessings in the Waiting
So now we are just waiting. Instead of having to go to the urologist every three months Allison gets to wait six months. Which means she will go back in July. And I can't help but believe that she just might outgrow her kidney reflux. It's a possibility. The doctors told us that the likelihood isn't great, but as I type this today I know that the people that lived over two thousand years ago also thought that it was unlikely that Jesus was the Son of God. And He was and is. And those same people thought that it was unlikely that He rose from His grave even when they saw that His body was missing from the tomb.
I believe these things with all my heart about the son of God. I also believe that He has the ability to completely heal my daughter. Yes, I believe that He can heal her from the reflux that threatens her body with infections. So on this Good Friday I'm grateful for my good Father. He has blessed me with a good life and our family with good health. Happy Easter friends!