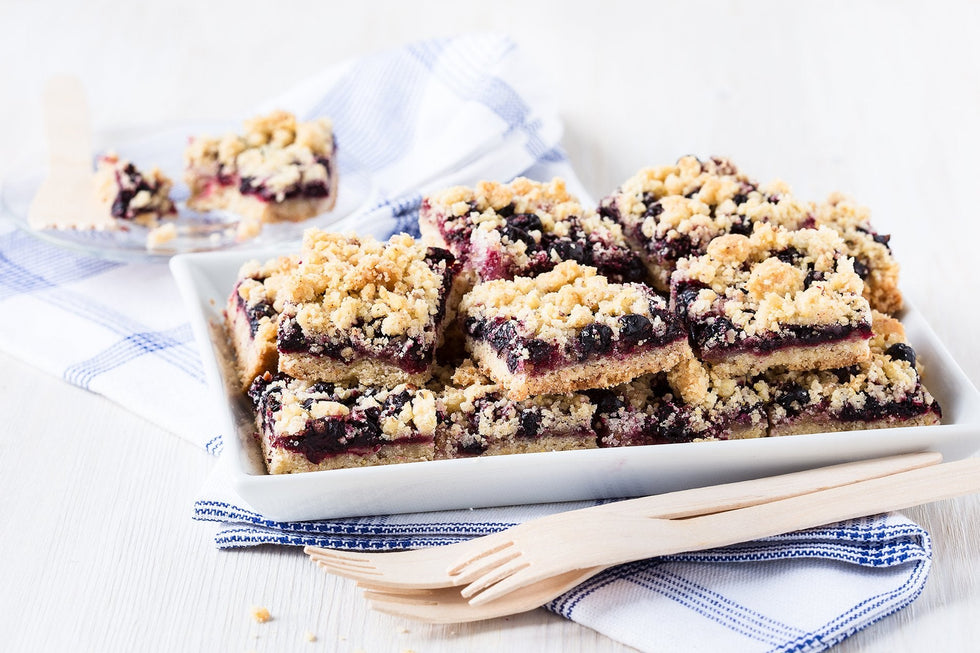 I have been resisting saying it out loud. That makes it all the more real. So, we won't talk about the season that is just about to end and what season is about to begin. Or how uncomfortably close it is to ending. Let's just enjoy the moments we do have. A few more late nights, a few more times to grill, and maybe a swim or two. For such occasions, I have the perfect get-together treat, Blueberry/Pecan Crumble. This dessert begs to be shared. It is best right out of the oven, warm and bubbly. It is beautiful with its golden top crust and dark blue bursting through. And it screams summer with loads of blueberry flavor that just happen to pair nicely with a dollop of vanilla ice cream. I'm just sayin'. This dessert is so good it will pretty much invite the neighbors all on its own. Make it tonight and enjoy good company and good eats. Hurry before summer is gone!
Now, I know pecans are not typically thought of as a summer treat, but if I may say so, they are the perfect complement to blueberries. So then, if blueberries are a great summer treat and pecans are a great complement to blueberries then I guess pecans are a great summer treat as well. Don't you think? That's what we're sticking to anyway. Pecans offer a nice balance to the sweet sometimes tart blueberries and specifically in this case they give the dish another dimension. Something else I noticed is the pecans gave the crust a great color, flecked with dark brown. This recipe, modified from Tastes of Lizzy T's Strawberry Crumb Bars and Cooking Classy's Blueberry Crumb Bars, joins the summer flavors of blueberries with the distinct pecan flavor for an incredibly delicious treat.
Blueberry Pecan Crumble Bars
Crust and Topping:
1 ½ cups flour
¼ cup granulated sugar
¼ cup brown sugar
½ cup Pecan Meal
½ tsp baking powder
1/8 tsp salt
1 egg
1 tsp vanilla
½ cup butter, chilled and cubed
1/4 cup Pecan Pieces, to sprinkle on top
Filling:
½ Tbsp cornstarch
¼ cup granulated sugar
1 tbsp lemon juice
2 cups fresh blueberries
Instructions:
Preheat oven to 375 degrees. Combine flour and other dry ingredients in a medium mixing bowl. Add in egg and vanilla then cut in chilled, cubed butter into flour mixture using a pastry cutter. Grease an 8x8 baking pan. I lined my pan with foil then sprayed the foil with cooking spray. This allows you to pull the crumble out of the pan, once it is cooked and cooled, for easy cutting. Pour half the flour mixture into the pan, press and spread using your fingers. Reserve the other half of mixture for topping.
Now for the filling. Combine cornstarch, sugar, lemon juice and blueberries in a separate bowl, gently coat the blueberries. Spread blueberry mixture over the flour mixture. Now crumble the remaining flour mixture over the top of the blueberries. Chop a few pecan pieces and sprinkle on top. Bake for 35- 40 minutes. Allow the crumble to cool completely before cutting. Serve warm with a little bit of vanilla ice cream AND enjoy!
So, now is the time. Enjoy every last minute summer has to offer. It will be gone before we know it (shhh, I'm still not saying it out loud). And let this Blueberry/Pecan Crumble be your inspiration and motivation to have one last hurrah. Go ahead, seize the summer!