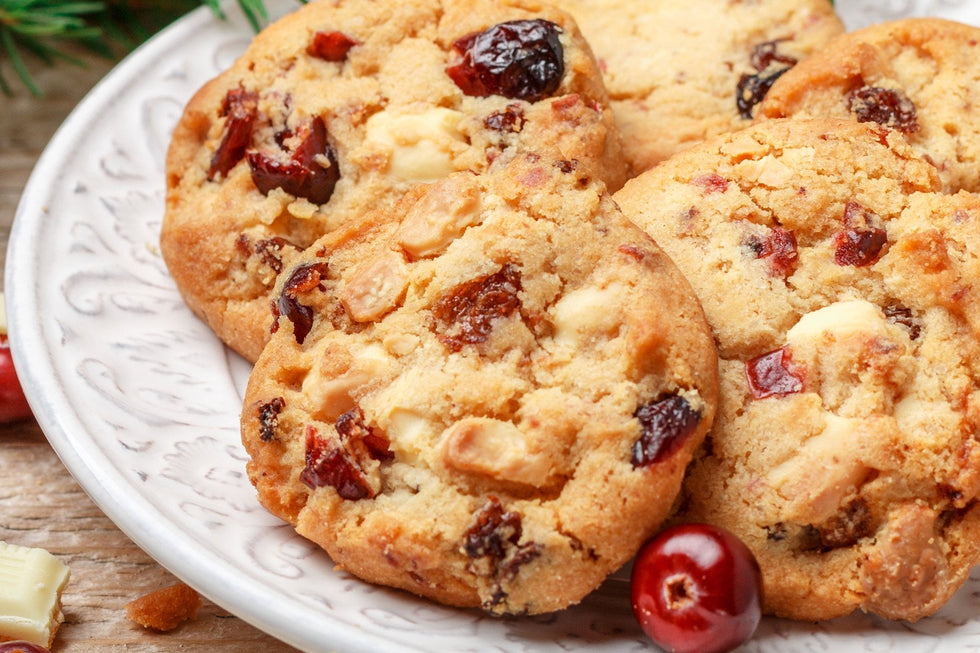 Try these yummy White Chocolate Cranberry Cookies with Pecans!
Y'all I have the cutest recipe video to share with you. Not only because it has some yummy pecan cookies from a great recipe, but also because it has some pretty precious kids in it. I admit I am super partial on this theory. Mainly because one of the kids is my daughter, Anna, and also because the other kid is our family friend, Ben. These kids had a great time filming this recipe. I told my mom that it was kind of like cooking with Elmo. The cookies are delicious as we got to enjoy them fresh out of the oven. As you will see, they thought the cookie dough was pretty spectacular as well.
My mother-in-law, Debbie, has been baking these cookies for quite some time and they are usually eaten way too quickly. She loves to add oatmeal to them as well to add a little more texture. When she sends them with Winston and his dad as they are working out in the fields the container comes back empty every time. The combination of white chocolate, pecans and cranberries is wonderful.
White Chocolate Cranberry Cookies
White Chocolate Cranberry Cookies Recipe
These cookies are so delicious! Most White Chocolate Cranberry Cookie recipes are too sweet, but by adding pecans (or other nuts) this recipe is a winner!
Cook time: 12 minutes
Ingredients
1 cup butter
1/2 cup brown sugar
1 cup sugar
2 eggs
2 1/4 cups of flour
1 tsp. baking soda
1/2 tsp. salt
2 cups White Chocolate Pecans, chopped
1 cup dried cranberries
Instructions
In a bowl beat the butter. Add both sugars and eggs and mix together. Add flour, baking soda and salt. Pour the white chocolate, pecans and cranberries into bowl and mix well. Spray a cookie sheet with non-stick cooking spray. Get a spoonful of cookie dough and place on the cookie sheet. Bake for 10-12 minutes at 375 degrees.
I hope you enjoy baking these pecan cookies as much as Anna and Ben did. Of course, I had a great time too. Who wouldn't, getting to cook with these two. It will certainly stick as one of my fondest memories with the two of them. I challenge you to invite your child, grandchild or a child that you mentor to do some baking with you. It adds a new perspective to your time in the kitchen. It's also a great learning experience for children and I believe that you will feel a new sense of excitement to any monotonous feelings you may have about cooking. Kids in the kitchen just have a way of providing that perspective to life. They take the monotony out of it and add newness and enthusiasm.