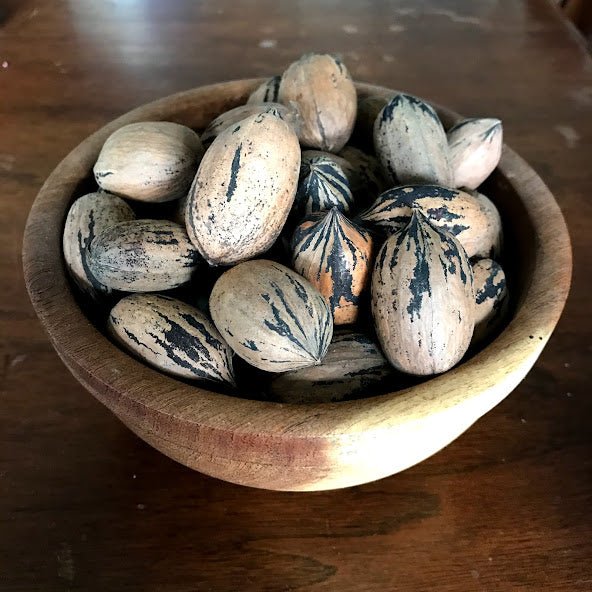 A Choice of Pecan Varieties for the West Cross Timbers Area of Texas 1958
Pecan Research
B. B. Freeman, Pecan Grower Ranger, Texas
In the West Cross Timbers area we have one variety of pecan that is peculiar in its adaptation. It is adapted to our area and if we could have but one variety we would choose the Burkett. The original tree was found as a native seedling in Callahan County, east of Abilene, many years ago. We have no better pecan than the Burkett in this area.
The Burkett is our No. 1 pecan. Nine out of ten of our customers want it which means that we have no trouble selling it. It is a fairly consistent producer for us, although perhaps not as consistent in its production as the Western Schley. The Burkett is free of disease in our area, but we understand in other areas that it scabs pretty badly. The Burkett demands a high temperature and low humidity. It does well in deep sand and I think it is adapted to the upland better than to the bottoms along the creeks. It begins producing nuts at a very young age.
We would place the Western Schley as our No. 2 variety. It is perhaps a more consistent producer than the Burkett, but it does not sell nearly as well in the shell. The dark color and shape is not as attractive as the Burkett but it is ideal as a pollinator for the Burkett which causes it to rank high with us.
Some of the new government crosses from the U. S. Pecan Research Station at Brownwood look very promising but we need more time to judge them. We would encourage more of you growers to try some of these crosses in your orchard. For example, the Success x Mahan, Cross 46-15-301, looks very promising.
We also grow many other varieties in our orchards including the Mahan, but as is the case in other areas, it does not fill too well and the flavor is not on a par with Burkett or Western Schley. However, the judges picked the Mahan as Grand Champion in the 1957 Eastland County Pecan Show. This is evidence that Mahans do sometimes fill out in the West Cross Timbers Area.
However, until a better variety comes along we will still have to call our best pecan variety the Burkett.