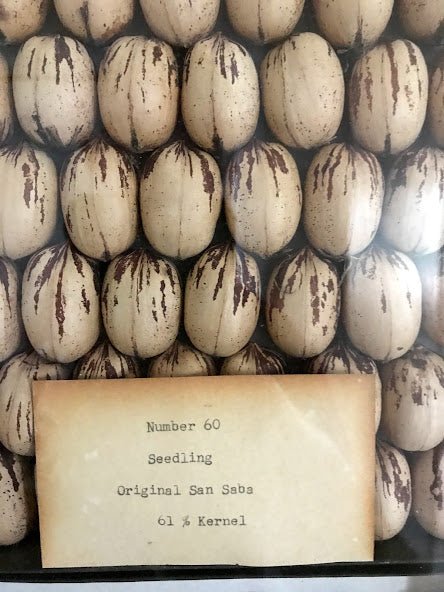 Choice of Pecan Varieties for the La Grange Texas Area 1958
Pecan Research
Frank J. Willmann, Pecan Grower La Grange, Texas
To select the best and second best variety of pecans to be grown in the La Grange area is not easy to do, and some of the other growers in this area may disagree with me.
The selection of a variety that will produce the most profitable crop is the most important point to consider in making this selection. Nearly all buyers of improved pecan varieties will pay top prices for large pecans, but they must be a known variety. The unknown variety is always at a price disadvantage regardless of its size and quality.
High production is another important point to consider. For any variety to produce large and profitable crops, it must be characterized by vigorous growth and regular crop production.
We have a number of varieties represented in the 1,200 topworked and planted pecan trees in our groves but based on about 15 to 30 years of production, the bulk of our crop is harvested from seven varieties. In order of economic return, they are: Desirable, Mahan, Success, Evans, Stuart, Moore, and Eastern Schley. The varieties that we have re-budded to Desirable and Mahan are: Burkett, Delmas, Bradley, James, Teche, and Govett. We are now re-budding our Stuart variety, but I think we should have started with the Eastern Schley. The varieties which we have on trial are Halsly, Slybert, Willmann, Brake, Roth, Barton, and Texhan. A number of seedlings are also under hybrid production. Taking profit as the prime consideration, my first choice for the La Grange area is Desirable followed by Mahan as my second choice.