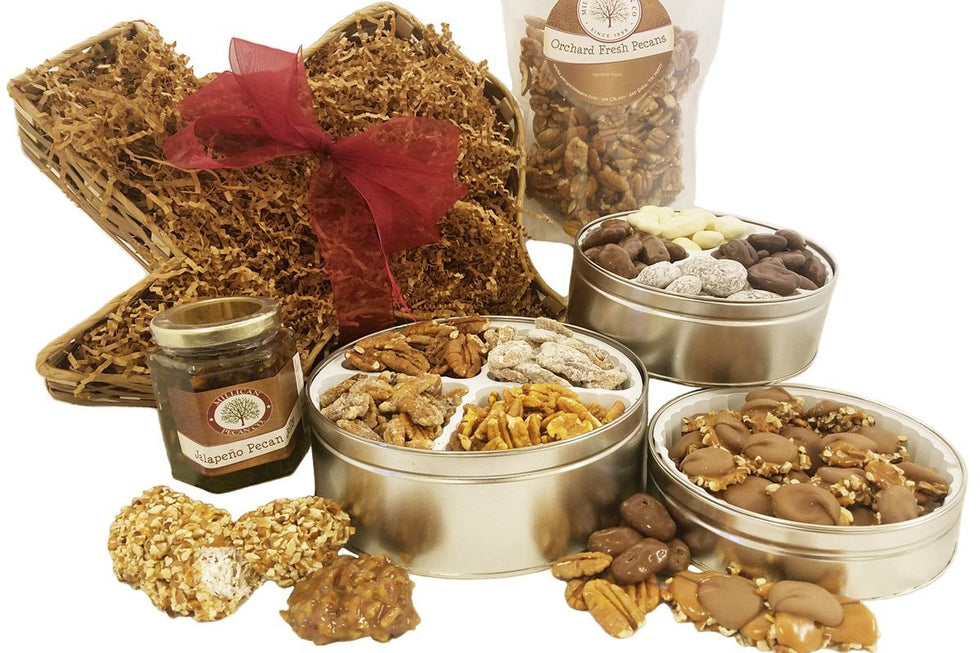 If you are on the lookout for corporate gifts, you have come to the right place. As an employer, you want to gift your employees something that they would appreciate. Not only would you prefer unique corporate gifts, but something your employees will remember. Whether it is the start of a new year, your organization's anniversary, or an annual dinner, Millican Pecan has premium corporate pecan gifts for you.
Corporate Pecan Gifts from Millican Pecan
Are you thinking of sending corporate gifts to your employees? Do not settle for the same old table calendars, key chains, and stationery. Give gift baskets full of pecans and pecan treats so your employees have something appetizing and healthy to snack on.
We understand that you need special corporate gifts, but at the same time, you can't go out of budget. Here at Millican Pecans, we offer a wonderful range of corporate gift packages. You can easily find corporate gifts at reasonable prices. Here is why you should get corporate gifts from us.
Everyone Loves Pecans
Pecans are among the top tier nuts that Americans consume almost every day. No one would say no to a basket of pecans. If you can't decide what corporate gifts to choose, look no further. There no better gift than a box of pecans and pecan treats.
Pecans and pecan treats would make unforgettable gifts for your employees or potential clients. Your employees or clients are going to get a real treat from Millican Pecan with our delicious pecan-based snacks. Whether you choose shelled pecans or chocolate pecans, all of our corporate gifts can embody your company's message.
Safe and High-Quality Pecans
We at Millican Pecan make our pecan treats with fresh and wholesome pecans. We use grade 1 quality pecans to create pecan delicacies. If you think that our nuts and gift products may contain allergens, worry not. All of our freshly harvested pecans undergo minimal processing to remove all the impurities and allergens. This is why physicians recommend Millican Pecans for your dose of delicious and healthy nuts.
Innovative and Yummy Pecan Treats
If you are expecting that we only have a basket of nuts as part of corporate gift packages, you are wrong. After all, why not give them something different that reflects your company's values and helps you stand out from other firms. From Pecan Pralines to Chocolate Pecan Caramillicans, we have a wide range of yummy pecan treats.
We also have other pecan delicacies like Pecan Clusters, Pecan Toffees, Pecan Caramel Popcorn, Pecan Coffee, and much more.
Customizable Corporate Products
The pecan products we feature are perfect for unique business and corporate gifts. If you want to customize your corporate gifts, we are at your service. We can print your company's logo and add a gift message for a personal touch.
Our Exquisite Range of Corporate Gifts
Buying corporate gifts for clients?
We feature a wide variety of corporate gifts for you to choose from. From gift baskets, chocolate gift boxes, to Texas-shaped gift tins, we have got everything. Here are some of our top selling gift products.
Seventh Heaven Gift Tin - Once you see our range of flavored pecans, you won't be able to pick one. Luckily, you don't have to as you can get the Seventh Heaven Gift Tin. It features all of our flavored pecans. In this, we add Roasted and Salted Pecans, Honey Roasted Pecans, Chocolate Pecans, Chocolate Toffee Pecans, Chocolate Amaretto Pecans, White Chocolate Pecans, and Pecan Pralines.
Gift Box of Chocolate Caramillicans - Have you been giving a box of chocolates to your employees every year? Well, here is something out-of-the-box for you. Our Pecan Chocolate Caramillicans is a special chocolate treat made with pecans and caramel. These Caramillicans come in a box of white, milk, and dark chocolate. You can also have all three kinds of Chocolate Caramillicans in one box.
Texas Pecan Candy Basket - Can't decide what to choose from our gift products? In Texas Pecan Candy Baskets, you get to enjoy our top pecan delicacies. This Texas-shaped gift tin has flavored pecans, Chocolate Caramillicans, Pecan Clusters, and Pecan Pralines.