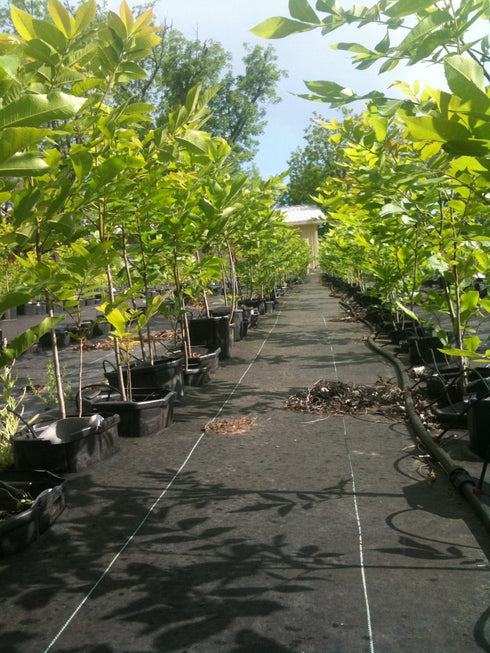 A Choice of Pecan Varieties for the Leon and Little River Areas 1958
Pecan Research
Nelson Hander, Pecan Grower Belton, Texas
In discussing pecan varieties best adapted to the Leon and Little River area, perhaps some background information should be given.
The Leon and Little River area in this discussion is composed of Bell and Milam counties. There are a few other tributaries of these rivers that have pecan trees growing adjacent to them. The more important ones are the Lampasas and San Gabriel Rivers along with the Nolan, Salado, and a few other creeks. The San Gabriel empties into the Little River near Cameron. The Little River begins in central Bell County at the junction of the Leon and Lampasas Rivers and empties into the Brazos River below Cameron in Milam County. The soils vary from black gumbo to deep alluvial, fertile soils in the bottoms.
The Little River Valley is quite wide and fertile. The Leon River and Lampasas River Valleys vary in width, but where the valleys are wider the soil is alluvial and fertile. Air and frost pockets are quite common in the deeper valleys of these streams.
My knowledge of pecan varieties was gained from practical experience in working with and observing over a hundred propagated varieties and numerous native pecan trees within the past 28 years.
There are several important factors that a pecan variety must have in order to qualify as a practical and worthy variety. Yield or tonnage is usually our primary aim. Closely coupled with this should be good kernel quality, shelling ease, and size. Growth habits and disease resistance of the trees are likewise important. This is a dominant factor whether or not a variety may be practical in a particular location or area.
Using the above as a basis in selecting the best suited varieties for this area, I would name Texhan, R-3, Desirable, San Saba Improved, and Commonwealth.
Texhan has consistently been a good producer in this area and does best where sufficient moisture and deep soil fertility are available.
R-3 likewise has been a good producer. This variety seems to do somewhat better on higher levels than the Texhan.
Desirable is a good sized fancy nut that does best in moist, deep fertile soils.
San Saba Improved is mentioned as a variety better suited to high elevations and yard plantings.
Commonwealth can be substituted for San Saba Improved, R-3, or it can be used on locations best suited to these varieties. It needs to be disseminated for further observation.