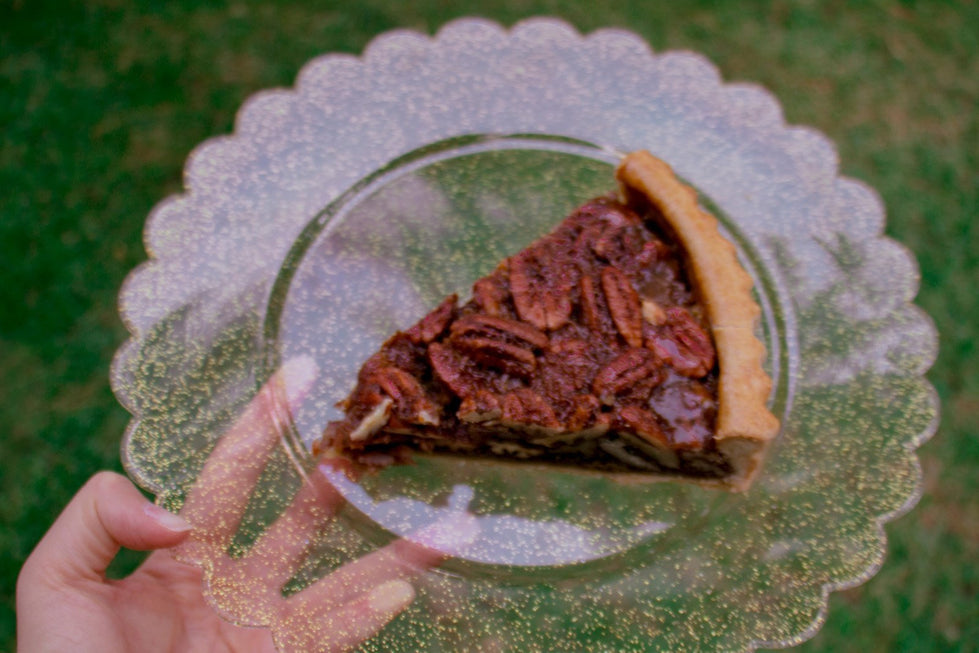 If you do not have corn syrup for your pecan pie recipe, honey is an excellent substitute. Whether you seek a more healthy alternative to corn syrup or simply want to experiment, honey is the way to go. 
There are over three hundred varieties of honey that range from clear colors to dark-colored options. Each one varies in taste as well. Some will have a floral flavor while others will have a more bold taste.  
When substituting honey for corn syrup, using equivalent amounts is recommended. For every one cup of corn syrup, use one cup of honey instead. Does it matter what type of honey you use? It all depends on the flavor you are going for. Darker honey choices often tend to be sweeter while the lighter choices can be more subtle. 
Honey Nutrition Facts
Did you know some studies have shown honey may have some health benefits? Although it is a sweetener, the potential health benefits are definitely worth the effort. Not only does it contain some trace amounts of iron, zinc, and potassium, but it also offers some antioxidants. 
Antioxidants help protect the body from inflammation. Honey may offer some anti-inflammatory benefits. Inflammation in the body can lead to a plethora of health issues including cardiovascular diseases, certain cancers, and autoimmune deficiencies or disorders. 
Honey has also been suspected of relieving a sore throat or cough in children and adults. Some parents will give a teaspoon of honey to their children when they have a cold. This practice is said to help relieve nighttime coughs and help them sleep. Just a spoonful of honey in hot tea is an excellent alternative to sugar sweeteners as well.
Honey Varieties
Not sure what honey to experiment with? Here are just a dozen different honey flavors to consider for your baked desserts. They are also a natural alternative to corn syrup or replacing your regular sweetener. 
Honey Blends

- Typical commercial options found in most grocery stores;

These blends tend to range from light to dark. The mix of different honey is done to achieve a consistent taste across chain stores. 

Some blends are a mixture of pure honey and other all-natural sweeteners. These blends cost slightly less than the pure honey products on the market. 

Acacia

- Native to North America and Europe;

This honey comes from the bees that pollinate the flowers of the black locust tree. 

It has a lightly sweet tone to it and is considered a pure and classic honey flavor. The mildly floral tones lend it a traditional honey taste that will not overpower any other flavors in your pecan pie.  

Alfalfa

- Mainly grows in Northern and Western United States;

It stems from the nectar of blue, purple, and yellow alfalfa flowers.

It is has a mild grassy, spicy tone with a floral aroma. 

This honey is usually a light color, sometimes white, or a light amber color. 

Avocado

- Originates from Southern Mexico, Central America, Australia, and Calfornia;

Avocado honey comes from the nectar of avocado blossoms. 

This honey has a rich, buttery, molasses-like flavor. 

It is darker-colored honey with a noticeable taste. Perfect for swapping out the corn syrup ingredient in your dessert recipes. 

Blackberry

- Stems from the nectar of red and black raspberries, and blackberries;

This option has a unique sweetness to it along with a deep, rich honey flavor and fruity, berry overtones. 

It has a light to medium amber color and is considered one of the more popular honey choices. 

Blueberry

- Stems from the nectar of blueberry blossoms;

Many of the blueberry plants grown in the New England area, such as Maine and central Michigan are used for blueberry honey. 

It is known to have a little of a tangy taste with fruity, blueberry-like tones. 

Buckwheat

- Originates from Eastern Canada, Minnesota, New York, Ohio, Pennsylvania, Washington, and Wisconsin;

This honey is produced by bees who collect nectar from the buckwheat blossoms. The flowers are usually pink, yellow, or white. 

It has a bold, mildly spicy flavor and is often great for marinades. 

Buckwheat honey typically has a darker-honey hue. 

Clover

- Is collected from a variety of nectars of the

Trifolium flower

;

There are over 300 different types of clover or Trifolium flowers and the honey is made from a mixture of them. 

This is considered classic honey with a lightly sweet and floral taste. 

Coffee

- This stems from the nectar of the arabica coffee plants;

It has a rich, deep flavor that is bold and unique than other honey choices. 

The coffee honey is a darker color option.

The nectar of the arabica coffee plants and the honey that it produces are known to contain trace amounts of caffeine. 
Eucalyptus

- commonly found in Australia, Brazil, and Western Cape in South Africa;
This honey has a medium-sweet taste with earthy tones, including menthol and caramel flavors. Fans of this honey found the taste to be likened to butterscotch. 

It is considered one of the more aromatic kinds of honey, with hints of menthol, citrus, and pine. 

Due to its subtle warming and cooling taste, it's perfect for adding to teas. 

Fireweed

- Mainly grows in Alaska, Canada, and the Pacific Northwest;

It is known for its mildly buttery texture and noticeable flavor. The taste is smooth and sweet with fruit-like undertones and a surprising buttery aftertaste. 

Fans of fireweed honey find it pleasantly aromatic and often use it for glazes, grilling, and marinades. 

It is produced by bees who harvest the nectar from the pink blossoms of the fireweed plants. 

Orange Blossom

- Comes from the nectar of orange tree flowers and other citrus flowering trees;

This honey is usually produced by bees who collect the nectar of a variety of citrus trees. 

It is usually lighter-colored honey and has a fresh aroma. 

The flavor is mild with a mix of citrus and sweet clover while leaving you with a rich floral-like aftertaste. 

Wildflower

- Originates from the various wildflowers of random fields, forests, or other similar environments;

It is considered light and fruity, with a rich flavor that isn't too overpowering. However, the taste can be difficult to pin down, because wildflower honey is not standardized. 

The specific taste of each blend depends on the type of wildflowers the bees were collecting nectar from. It also depends on the season because different wildflowers will bloom during certain times of the year. Wildflower honey produced in the Spring will be from a different source than the honey produced in the Fall months. 

The intensity of the flavor, scent, and taste all vary due to the plethora of wildflowers that contribute to the honey's production. The lighter-colored wildflower honey is typically produced during the Spring and early Summer months. The medium to darker colored honey is produced during the late Summer and early Fall. 
Did you know honey-roasted pecans would make a tasty addition to your pecan pie recipe? Despite which honey you choose for your dessert recipes, just remember the equivalent ratio. Keep in mind that every honey has a unique flavor profile. If you find the honey taste to overtake other flavors, consider experimenting with a mix of different types to get the desired results.