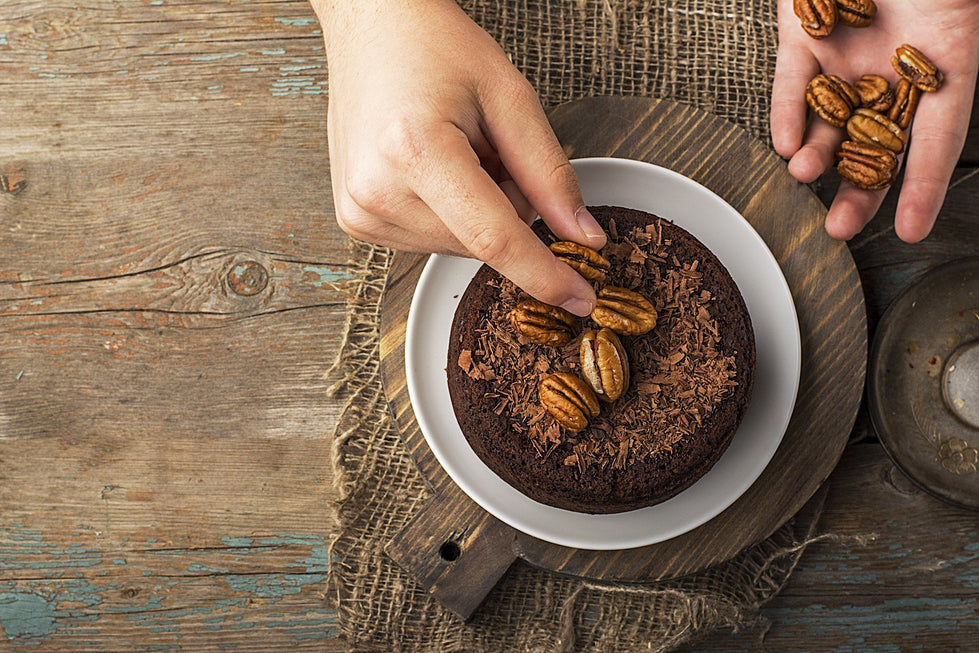 The Fall season is just around the corner and festive favorites are not far behind. It's that time of year when we transition from frozen summer treats to delectable Fall picks.
Pecans are a popular ingredient when it comes to the baking season. Having a prepared line-up of recipes is a great way to cut down on any guesswork. If you plan on baking weekly desserts this Fall, be sure to get enough bulk pecans from the start.
Quick Snacks
Sugar Coated Pecans
For a sweet handful of pleasant crunch, this pecan recipe makes for a quick snack. Start with at least one pound of pecans if want around ten to twelve servings.
Ingredients:
½ teaspoon ground cinnamon (optional)
¼ teaspoon of salt
1 tablespoon of water
1 egg white
¾ cup of granulated sugar
½ cup of powdered sugar (optional)
1 pound of pecan halves
Directions:
Preheat the oven to 250 degrees Fahrenheit or 120 degrees Celsius and grease your baking sheet.

Use a large tossing bowl to combine and mix the sugar, salt, and optional spice (cinnamon).

In a second bowl, combine the water and egg white. Mix them until a frothy texture is produced. Slowly add the pecan halves into the mixture, gently stirring until every nut is evenly coated.

Pour coated pecans into the bowl of dry ingredients. Toss them until the nuts are coated to your satisfaction.

Spread the pecan nuts onto your baking sheet and place it in the oven at 250 degrees F for one hour. Flip or stir them every fifteen minutes.

Remove once they are golden brown or give off an inviting fragrance and let them cool.

Once they are cooled down, lightly dust them with powdered sugar and enjoy!
PGEgaHJlZj0iaHR0cHM6Ly9taWxsaWNhbnBlY2FuLmNvbS9jb2xsZWN0aW9ucy9wZWNhbi1waWVzIj5QZWNhbiBQaWUgQmFyczwvYT48L3A+CjxwPsKg
This recipe is perfect for on-the-go dessert snacks. You can even pair it with your morning coffee or hot tea. These measurements are enough to make 24 pecan pie bars.
Ingredients:
1 ⅓ cups of chopped pecans
1 ½ cups of flour (all-purpose)
2 cups of granulated/white sugar
¼ teaspoon salt
¾-cup of light corn syrup
1 teaspoon of vanilla extract
1 ½ tablespoon of melted margarine
½-cup of butter
2 whole eggs
Directions:
Preheat oven to 350 degrees F or 175 degrees C and make sure you grease your 15 x 10-inch baking pan.

To make the crumbly crust for the bars, use a large mixing bowl and combine the flour, salt, ½ cup of granulated sugar, and butter. Create a crumble-like mixture. Then spread it onto the baking pan and press it firmly into the greased pan.

Bake the crumble at 350 degrees F for 15 to 20 minutes.

Mix the eggs, corn syrup, melted margarine, vanilla, and 1 ½ cups of granulated sugar. Once they are well-mixed, slowly stir in the chopped pecans.

Spread this mixture over the crust while the crust is still hot. Make sure the pecan mixture is evenly spread out.

Bake it for an additional 20 to 25 minutes. It's all done when everything is set.

Allow it to cool down before cutting it into bars.
Timeless Desserts
The following recipes are classic pecan desserts. Impress yourself, the family, and friends with a traditional pecan pie or soft pecan cinnamon rolls.
Brown Sugar Pecan Pie
Ingredients:
Your favorite 9-inch, unbaked deep-dish pie crust (place it on a baking sheet for the oven)
1 ½ cups of chopped toasted pecans
1 ½ cups packed dark, medium, or light brown sugar
½ teaspoon of salt
4 whole eggs
¼ cup of milk
¾ cup of butter
2 teaspoons of vanilla extract
Directions:
Preheat the oven to 325 degrees F or around 165 degrees C.

Melt the butter and set aside.

Using a mixing bowl, combine brown sugar, salt, milk, eggs, and vanilla extract.

Once they are well mixed, slowly stir in the butter followed by the pecans.

Gently fill the pie crust with this filling.

Bake for 50 to 60 minutes at 325 degrees F.

Let it cool down before slicing and serving. Bon Appetit.
Pecan Cinnamon Rolls
This recipe will yield twelve, sweet and savory pecan cinnamon rolls.
Ingredients:
1 ½ cups of chopped pecans
1 cup of pecan halves
3 ¾ cups of all-purpose flour
2 tablespoons of cinnamon
1 teaspoon of salt
1 cup of granulated sugar
5 teaspoons of dry yeast (around 2 packets)
1 cup of room temperature, unsalted butter
1 tablespoon of vegetable oil
1 ½ cups of warm water
Directions:
Pour ¼ cup of sugar and the warm water into a large mixing bowl. Slowly pour the yeast over. Let it sit (3-5 minutes) until it gets foamy.

Combine the vegetable oil and salt with it and mix it well.

Slowly add the flour to the mix. ½ cup to 1 cup at a time to form the dough.

Once the soft dough is made remove it from the bowl and place it on a floured, flat surface. Knead it until the dough is smooth and elastic, but not too sticky. Add a little flour to the surface area and the dough if it is too sticky.

Place the dough in a lightly oiled large mixing bowl, flip the dough to make sure all sides get coated with oil. Use a plastic wrap to cover the bowl, followed by a kitchen towel. Place it in a warm area and let it stand (1 hour) until the dough doubles in volume.

While the dough is rising, blend the butter, cinnamon, and rest of the sugar.

Once the dough is double in size, gently roll the dough out into a rectangle, around 16 x 10 inches.

Spread the cinnamon butter mixture evenly over the rectangle of dough. Add a layer of chopped pecans, spread evenly over the dough.

Carefully roll the dough, until a log is formed. Cut the log into 12 pieces.

Any remaining butter mixture can be spread over the bottom of the baking pan. Use a 15 x 10-inch cake pan. Spread 1 cup of pecan halves over the buttered pan. Once the pan is prepared, evenly space the rolls, with the cut side facing down. Cover the pan with a plastic wrap and set aside for 25-30 minutes in a warm area. Allow the rolls to puff up and rise.

Make sure the rack is positioned in the center of the oven and preheat the oven to 325 degrees F (165 degrees C).

Uncover the cinnamon rolls and bake them for 25-35 minutes or until the tops are a nice golden brown. Let them cool down or serve them warm.