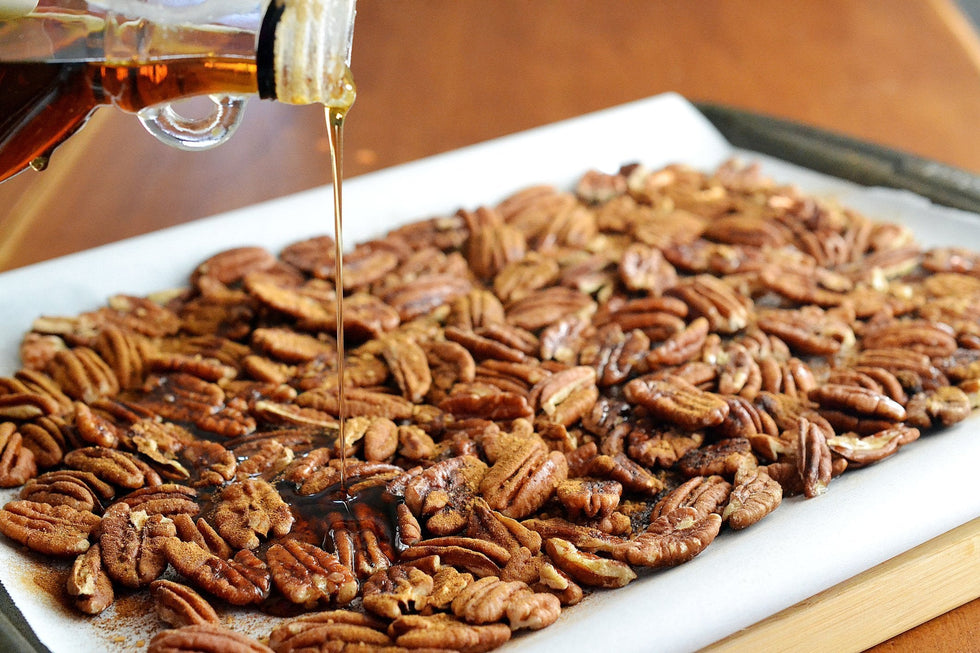 saying that opposites attract. And we are all familiar with the proven, time-tested pairs that so perfectly complement each other such as bread and butter, peanut butter and jelly and fish and chips. There is a new "opposite" phenomenon  "Sweet and Spicy."
It could be said that "sweet and spicy" is actually one of the better known "opposites" out there. From the very premise, taken at face value, they are exactly that, opposites, and yet they balance each other so well. Sweet and spicy can be used in everything from main dishes to side dishes, appetizers, and even desserts. The combination has been used for chicken, beef and pork. It even crosses cultural lines being used in Chinese dishes, southern bar-b-que, Indian and Thai dishes, and Italian cuisine. These two opposite flavors have even been used in candies and teas. So, it only makes sense that this lasting flavor combination would be used to flavor pecans. And when it does, it is magical! Our Sweet and Spicy Pecans are mostly sweet with the slightest bit of heat at the end to keep things interesting.
It Starts With
We start with pecan pieces. These are halves or pieces of halves that are roasted in a 400-degree oven for about 10 minutes. There are lots of ways to go about achieving the sweet flavor. You can use traditional white sugar, making a simple syrup, but there are other sweeteners out there such as maple syrup, honey, molasses, brown sugar, corn syrup, and confectionary sugar. For our delicious Sweet and Spicy Pecans, we chose the rich, pure flavor of maple syrup. Being that it is derived from trees, it pairs nicely with pecans. Traditionally some sort of chili powder is used to achieve the spice in sweet and spicy recipes. For our Sweet and Spicy Pecans, we used a combination of sea salt and cayenne pepper. After the pecan pieces are roasted, they are gently mixed with warm maple syrup then sprinkled with spices before the maple syrup dries. The maple syrup helps the spices to adhere to the pecan pieces.
Oh, the Possibilities!
These pecans are great on their own as a mid-morning or mid-afternoon snack. They offer a non-processed, natural food that gives you energy and keeps you focused and satisfied. While at the same time offering something new and unexpected with their sweet and spicy flavors. So, you may never get bored. Though these are terrific on their own, can you imagine them in your favorite pecan recipe? Oh, the possibilities! Just as bacon or sausage instantly livens any dish, so will these Sweet and Spicy Pecans. If you are looking to enhance, take over the top, or intensify an old favorite, try these pecans today. They would be great in desserts for an extra layer of depth, add to just about any salad or appetizer for a punch of surprise and an excellent way to add texture to your main dish. This is a great time of year to experiment with dishes. Lots of gatherings coming up and the cooler weather lends itself to the warmth of "sweet and spicy" flavors. So timeless and yet so versatile, let your imagination run wild this fall using the opposite flavors of sweet and spicy pecans.
No Denying It
So, yes opposites do attract. Maybe we don't understand it, but we can't deny it either. During this fall season let us embrace the classic combination of sweet and spicy and enjoy all that it has to offer. Let us know how you use Millican Pecan's Sweet and Spicy Pecans.