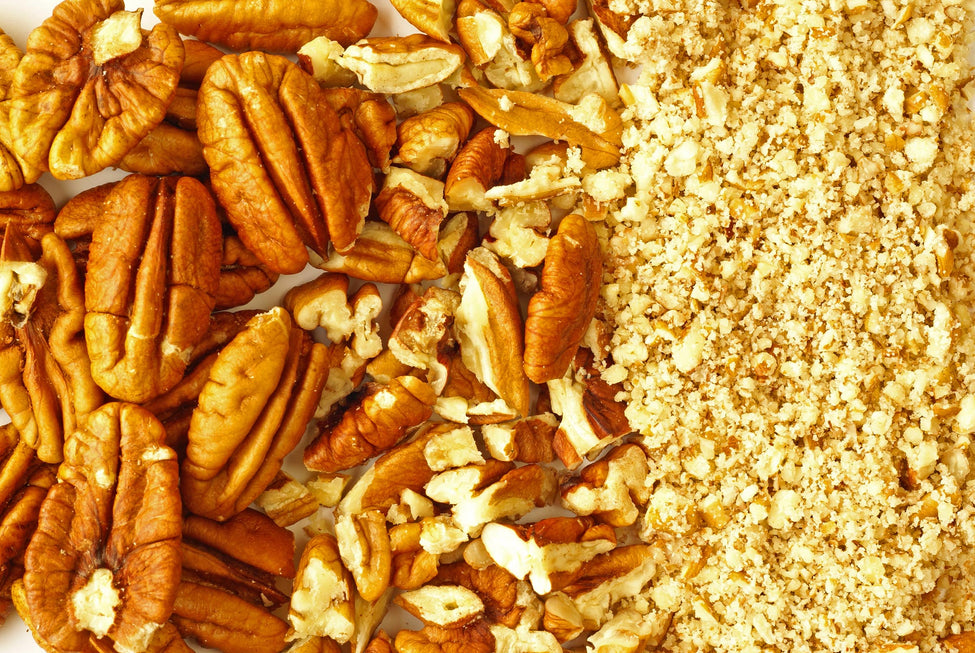 Pecan meal and pecan flour are made from nicely ground up pecan nuts. A finer grind produces the pecan flour. The larger pieces, also referred to as flakes are what makes up pecan meal.
Did you know you can use pecan meal the same way you would typically use flour? For baked goods or breading meat, pecan meal can help boost the delicious flavor of your food. It's also a healthy alternative to the classic options. If you are worried about an overwhelming nutty punch, please don't. Pecan meal and pecan flour add a light flavor for a subtle twist to any recipe.
What is Pecan Meal?
Pecan meal has some impressive nutritional facts. It contains roughly 1.5 grams of protein per tablespoon or 2 grams of protein per ounce. This is significantly higher than your traditional all-purpose flour. Since pecan meal is made from the pecan nut, it's naturally gluten-free. It also contains moderate levels of vitamin C, calcium, and iron.
Pecan nuts are an excellent source of fiber and pecan meal is no different. Just two tablespoons of pecan meal contain at least 2 grams of dietary fiber. That is roughly eight percent of your daily nutritional needs. It's also a great choice for natural carbohydrates and healthy fats.
How to Create Your Own Pecan Meal
For a hearty substitute to flour or breading ingredients, round up your favorite pecan nuts and grind them up. Using a food processor would be the easiest and quickest way to get pecan flour. If you don't have a food processor, a blender can work. You just have to use smaller amounts, which may take longer but can produce some superb pecan meal.
Freshly kept pecan meal can be stored in your refrigerator for as long as three months. You can also store it in your freezer twice as long, although it would be surprising if wasn't used before then.
Shake up your routine recipes and use pecan meal to add that signature flavor.
Recipe #1: Spicy Pecan-Crusted Chicken
Ingredients:
1 1/2 cups of moderately or finely ground Millican pecan meal
1 egg
3 - 8 oz pieces of chicken
2 tablespoons of olive oil (for cooking)
1 tablespoon of your favorite butter (for cooking)
Suggested spices or your choice of seasonings:
¼ teaspoon of cayenne pepper
½ a teaspoon of paprika
1 teaspoon of garlic powder
1 teaspoon of onion powder
Pinch of salt
Pinch of pepper
Directions:
Preheat oven to 400 degrees Fahrenheit.
Mix the spices and egg in a bowl.
Place a layer of pecan meal in a cake pan or shallow dish.
Carefully dip the chicken pieces in the egg/spice mixture before evenly coating the chicken with pecan meal.
Put the olive oil and butter in the baking pan and place the chicken in the baking pan.
Bake for 10-12 minutes on each side (ensures even crunchy crusts).
Be sure to check the inner temperature with your meat thermometer. If internal temps read 165 degrees Fahrenheit or higher, then serve it up!
Recipe #2: Mixed-Berry Pecan Crisp
Ingredients:
2 cups of old-fashioned oats
¾ cups of Millican pecan meal
¼ teaspoon salt
¼ teaspoon cinnamon
¼ cup olive oil
1 teaspoon of lemon juice
1 tablespoon of butter
3 tablespoons of honey (or your choice of sweetener)
4.5 cups of mixed berries (blackberries, blueberries, raspberries)
Directions:
Preheat the oven to 300 degrees Fahrenheit.
Mix dry ingredients into a large bowl (oats, pecan meal, salt, cinnamon) before adding wet ingredients (lemon juice, butter, olive oil, honey). Don't add the berries. Keep stirring until everything is consistently combined.
Grease a 9x9 baking dish (or round equivalent) and spread the mixed-berries across the bottom. Evenly pour the oat and pecan meal mixture across the top of the fruit.
Bake for 30-40 minutes or until the crisp topping is slightly firm and golden brown.
Let it cool down before serving it up. Add a scoop of ice cream and a sprinkle of well-chopped pecans for a decorative look. Enjoy!
Extra Pecan Meal
Here is what you can do with your left-over pecan meal - use it as a topping! Toss some pecan meal over your morning cereal or yogurt. Sprinkle some over your froyo, into your smoothie, or on a delectable dessert. Pecan meal can be used as an exciting topping and adds a revitalizing new flavor to popular home-cooked meals.