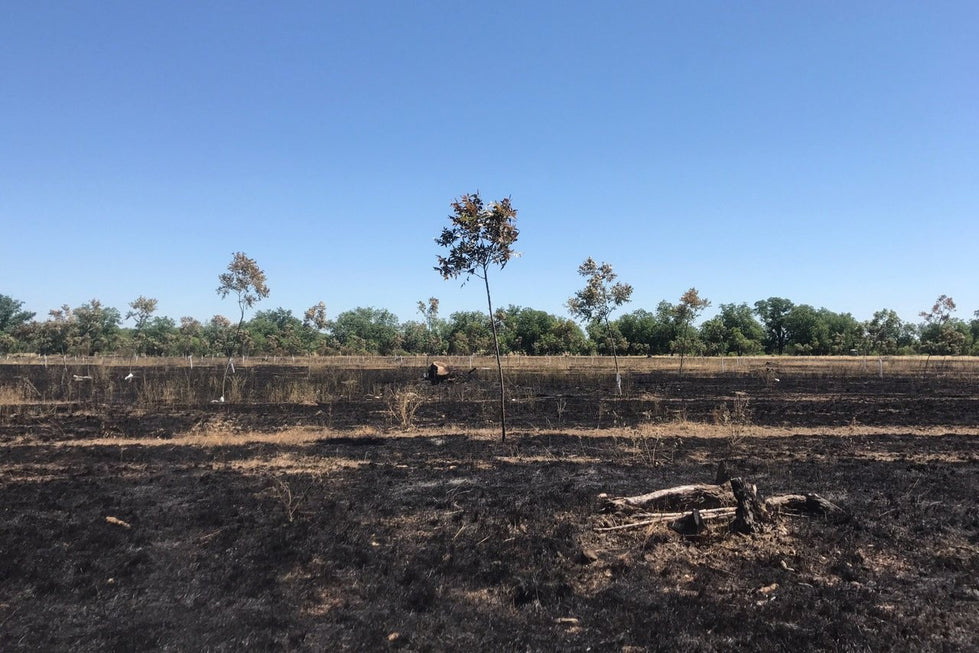 Sometimes failure hits you when you least expect it. When it does I believe it's important to seek to find beauty in the ashes. That was the case for us a few weeks ago as we sought to find beauty from the pecan ashes. I wish that was a symbolic term, but unfortunately, it's not. If there is one thing that can crush the spirit of a pecan farmer it would be to hear of involuntary pecan ashes falling in the orchard.
That's exactly the news we received on a seemingly ordinary Wednesday afternoon. One of the firefighters at our local fire department, who happens to be a friend of ours, called Winston. He explained that they were at one of the orchards that Winston and his dad lease. One of the brush piles had caught fire and nearly the entire orchard was in flames. Eighty acres had burned up to that point and they were working to try and put it out.
A Pecan Farmer's Worst Nightmare - Fire!
Few things can scare a pecan farmer more than a fire. In fact, I would say it's every farmer's worst nightmare. I'm sure our friends in the Texas panhandle can attest to that. For they were victims of nearly 500,000 acres burning earlier this year. Well, that nightmare became our reality and we are now seeking to find beauty from the pecan ashes.
Pecan ashes. A subject I never thought I would be writing about. And yet, sometimes the things that we least expect can happen in the blink of an eye. I know it was the thing that Winston least expected to happen. He had been working exceptionally hard on all kinds of projects. We usually have lots of different irons in the fire (no pun intended), but this particular time frame seemed to be even more chaotic. I don't think it was necessarily that there were more projects on our plate, but it was more so that every project that we had going on seemed to be encountering obstacles of extreme force. This was the case, especially for Winston.
Pecan Orchard on Fire
I was at our factory making a batch of Pecan Divinity when he sent me a text message. "Can you come outside?", I read after I heard my phone alert me. I thought it was strange that he would ask that. Usually, he just walks into the factory to talk to me. And I remember hoping that everything was okay. I responded that I would come outside as soon as I finished the batch of pecan candy I was making.
When I walked outside I found him in his truck. He didn't roll the window down to talk, so I walked over to the passenger side and sat down next to him. My husband is not one to cry. In fact, I think the last time I saw him cry was three years ago when we lost our little girl. So, to see him in the emotional state he was in definitely had my heart racing. "What's going on?", I asked him. And that's when he told me that one of the orchards was on fire.
Beginning of the Pecan Ashes
It took him awhile to get the story out and I could tell that he was unsure of what to do next. He explained that he had been out to that orchard the day before. He was trying to burn a few brush piles to make the place look really nice. "I was so frustrated when I left yesterday because I couldn't, for the life of me, get those brush piles to light", he said. "And now the day after they just caught fire on their own."
I wasn't sure what to say, so I just put my hand on his arm and sat there. We sat for awhile without saying a word and then the fire department called to give him an update. Winston told them he would be on his way shortly. I asked him if I could pray for him and so we paused to pray for God to guide and direct him on this tough assignment. He then took a deep breath and went out to see how he could help.
A Pecan Farmer's Strength to Endure
I watched my husband drive away and I remember saying another prayer for God to strengthen him. I knew he was weary and he would need more strength than he could muster on his own. In fact, he needed supernatural strength. The strength that only God can provide.
After a few hours passed I called him to see if I could bring him some dinner. He gladly accepted the offer, so the girls and I picked up some burgers and took them out to him. As we were driving out to the pecan orchard I could see smoke from a distance. The closer we got the more visible the smoke became. We found him on the tractor. The fire department had been able to put the fire out and he had plowed the perimeter of the orchard to prevent the fire from expanding in case an ember flared up.
The Effects of the Fire - Pecan Ashes Everywhere
It was black everywhere. Honestly. I saw pecan ashes everywhere I looked. As far as I could see every blade of grass was scorched. Winston hopped in the car and asked me to drive around to see the damage. We drove in silence as we surveyed the area. "What do you think?", he asked me as we rounded the last corner. I looked around and cautiously asked him, "Well, do you want the truth?". "Yep, I do", he responded.
I proceeded to tell him that it definitely looked bad. It was black everywhere and the pecan ashes were evident everywhere I looked. But even with all that I was surprised with how much it didn't damage. In the part of the orchard where the large, mature trees still stood the fire had scorched every blade of grass, but I was shocked that the trees seemed to have been untouched. The leaves were still green. In the new part of the orchard where we had planted pecan trees about three years ago, there were certainly some trees that had been victims of the fire. They were brown from the base of the tree to the tip-top of the branches. But…there were also many trees that looked like they would make it. Somehow, they had been spared.
What the Future Will Hold - Pecan Tree Survivors
It's hard to know what the future holds. After all, you don't always see the effects of a fire right away. The pecan trees that seem like they will make it might not. And ones that look scorched just might turn out to be survivors. But I do know this…we are seeking to find the beauty from the pecan ashes. And I hope that by this time next year we will be blown away at all that God will do by causing beauty to be brought forth from these pecan ashes.