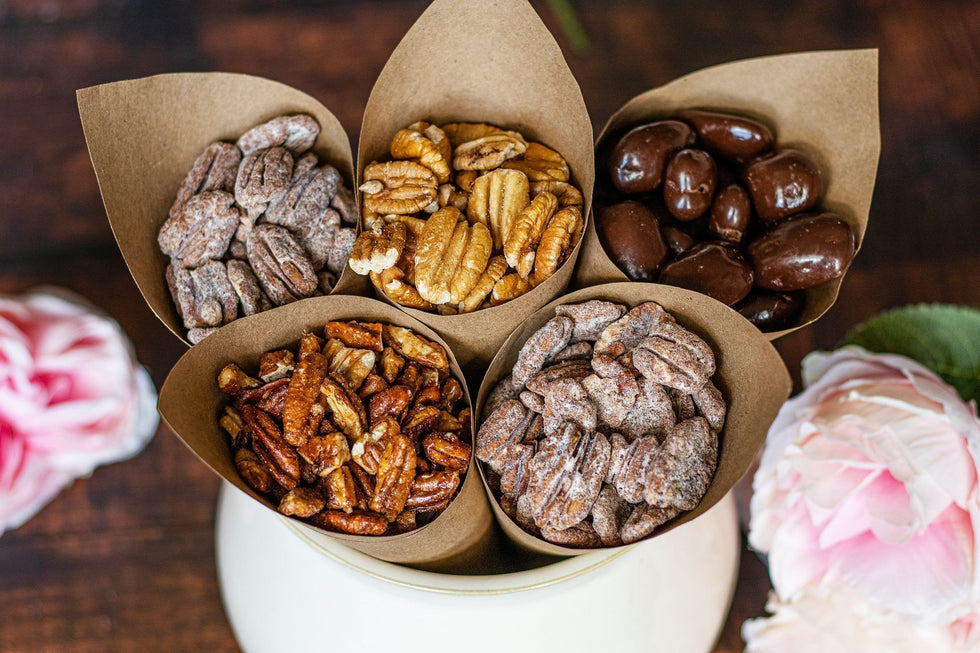 Pecans are the perfect nuts to munch on while binge-watching, reading a book, enjoying a game, etc. Doctors and health experts recommend eating 1.5 ounces or a small handful of nuts daily. So why not have pecans that taste amazing and have numerous health benefits.
Flavored Pecans from Millican Pecan
There are so many ways to enjoy pecans. You can have them with your breakfast, add them to your salads or smoothies, or enjoy them on their own. The best and quickest way to consume pecans is to have them straight out of the jar. While fresh pecans are great to eat, you can have flavored ones for a change.
At Millican Pecan provide our customers with opportunities to enjoy pecans in many ways. From pecan pies to flavored pecans, we have it all. We have a wide range of flavored pecans you can choose from. We also have gift tins of flavored pecans to give something special to your loved ones.
Here are some yummy and healthy flavored pecans you can easily get from Millican Pecan.
Salted and Roasted Pecans
Roasted pecans are the favorite snack for most people. It is hard to put down the jar of roasted pecans once you begin eating. We like to give a salty kick to our roasted pecans. Keep a bag of salted and roasted pecans in your house. Next time you have unexpected visitors, you don't have to worry about what to serve them.
Honey Roasted Pecans
We don't forget our customers who have a sweet tooth. If salted and roasted pecans aren't your choice of snack to munch on, we have honey-roasted pecans for you. Our fresh pecans are roasted and mixed with a little amount of honey. As a result, you don't have to worry about the pecans tasting sickeningly sweet because of honey.
Cinnamon Candied Pecans
Is there a better combination than cinnamon and nuts? Cinnamon and nuts not only make the yummiest pies, but this combo is perfect for your daily munching of pecans too. Did we tell you that it is super healthy to use cinnamon in your foods? These candied cinnamon pecans are crunchier than ever and have a heavenly taste.
Hot and Spicy Pecans
Here is a unique blend of flavor for pecans. We offer hot and spicy pecans to spice lovers. The spice level is not too high, so that anyone can enjoy them. There is a smoky taste of pecans before the spiciness hits your taste buds when you eat them. Give these Hot and Spicy pecans a try, and we promise you won't regret it.
Cappuccino Pecans
If you are a true coffee lover, then we have something special for you. These cappuccino flavored pecans are a real delight for coffee lovers. The coffee flavor does not overpower the pecan taste. We make these special flavored pecans with some chocolate, sweet cream, and coffee.
Chocolate Covered Pecans
There is no denying that everyone loves the combination of chocolate and nuts. We coat our farm-fresh pecans with pure rich and silky chocolate. Chocolate covered pecans are an absolute delight. They can be a great substitute for dessert if you want to serve something light, simple, and healthy to your guests.
Buy flavored pecans for sale