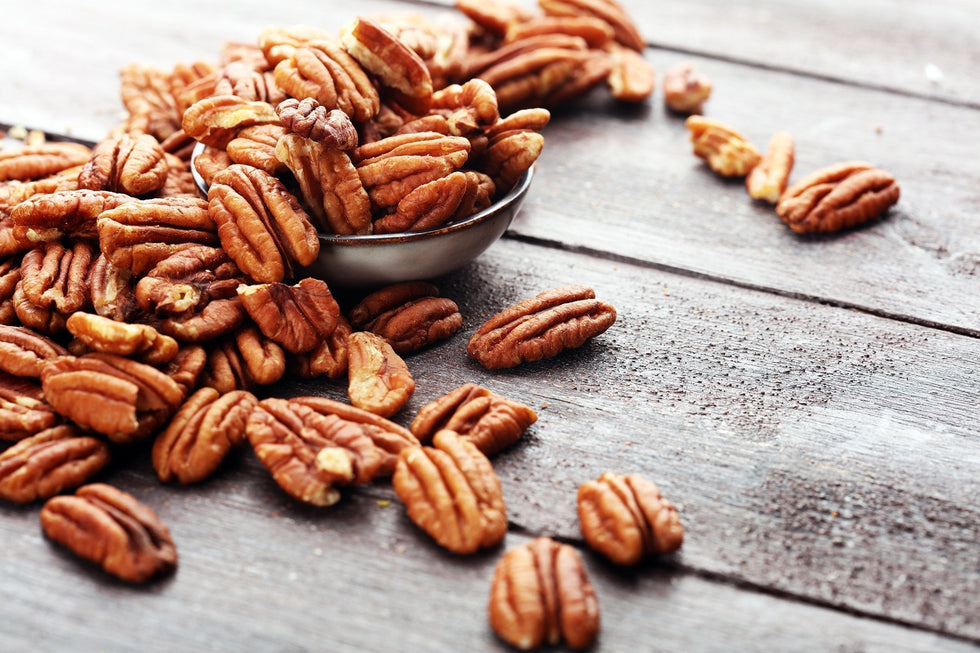 The pecan is a nutritious snack to mix up any meal. They are delicious, smooth and crunchy but not without a little bit of preparation. Have you ever wondered how ready-to-eat pecans from convenience stores and restaurants get that flavor-filled, light crunch? Well, the pecans are toasted. Toasting pecans comes highly recommended as one of the best ways to lock-in the flavor.
How to Toast Pecans
The great thing about it is the prep does not take very long and is well worth it. Don't short yourself the enjoyment of a sweet, toasted pecan morsel by skipping this preparation method. Toasting nuts of any kind is often done because the act allows for the natural oils to enrich the surface, lending it a more noticeable nutty flavor. Toasting the pecans deepens the colors and adds a more satisfying crunch.
Simply add some to your salad or yogurt for a crunchier twist. Want to spruce up your sugar-free breakfast hotcakes? Be daring and add some toasted pecans for delicious, memorable pancakes. The following outlines the three common methods of toasting pecans.
Different Ways to Toast Pecans
Before you decide to toast your pecans or other nuts, don't neglect to spice them up. Granted, pecans are great without adding anything, but there are amazing recipes you should try.
For a sweet pick-me-up pecan, you can toss them in your choice of oil, including melted butter or olive oil. Then comes the sweet part, once evenly coated toss the pecans in a mix of cinnamon sugar, brown sugar, or favorite sweetener. This would be a great choice for parents looking to liven up their kids' snack menu while keeping it healthy. It also works for the people with a sweet tooth who want to keep it light but filling.
Savory Butter Roasted Pecans
This would be a classic pick for movie night. Evenly coat your pecans in your choice of clarified butter. Add some pinches of your preferred salt and toss. Buttered garlic pecans are a great addition to your salad. Just add some garlic seasoning when you toss them before popping them in the oven, on the stove, or in the microwave.
The most common go-to recipe for toasted pecans is to toss them in your favored oil before toasting them.
Toasting Pecans In The Oven
For large batches of toasted pecans, using the oven would be the easiest choice. Preheat your oven to three-hundred-fifty-degrees Fahrenheit (350F). Make sure you lightly coat your baking sheet with cooking spray. Once you have prepared your pecans with the desired coating, spread them onto your baking sheet. Once placed in the preheated oven, pay attention to the timing and aroma. You will know when they are done by the deeper color, crisper texture, and enticing pecan fragrance. Depending on your elevation, the pecans could take between five and ten minutes (5-10 minutes). Don't forget to stir them for evenly toasted pecans without burned edges.
Dry Roasted Pecans
If you are someone that prefers the focused flavor of pecans, then you might want a dry roasting method. For the dry roasted option, just skip the coating and spicing of the pecans. Instead, place them on the baking sheet (which is lightly sprayed with cooking oil) and put them in the oven. The baking time is still the same, however, be sure to check and stir them about midway through the toasting time to ensure flavor-packed results with the right amount of crunch. Toasting
Pecans On The Stove
To get toasted pecans on the stove top, place the pecans in a skillet over medium to high heat. You can also coat the pecans in your desired oil or butter and spices before putting them in the skillet. Allow the pecans to get a shade or two darker and remember to pay close attention as they can easily get extra crispy without a watchful eye. The process can take anywhere from two to seven minutes (2-7 minutes). Make sure to mix them and toss them for better results. Once the pecans have deepened in color and give off an aromatic smell, it's time to remove them from the heat.
Toasting Pecans In The Microwave
Now, if you want the quickest way to toast pecans, try the microwave. Using a microwaveable bowl, place the desired amount of pecans in. Make sure you have tossed them in your coating of choice for some exciting flavor. Microwave the pecans on high for five to six minutes (5-6 minutes), stopping the microwave at two to three minutes (2-3 minutes) intervals so you can stir the pecans before popping them back in for the remaining time.
No matter which toasting method you use just remember it's worth the prep time to get the maximum flavor from your pecans. After toasting them, you can store them in an airtight container for up to one week. Perfect for folks looking to sprinkle some nutritious bits over their yogurt, salad, or deliciously seasoned chicken.