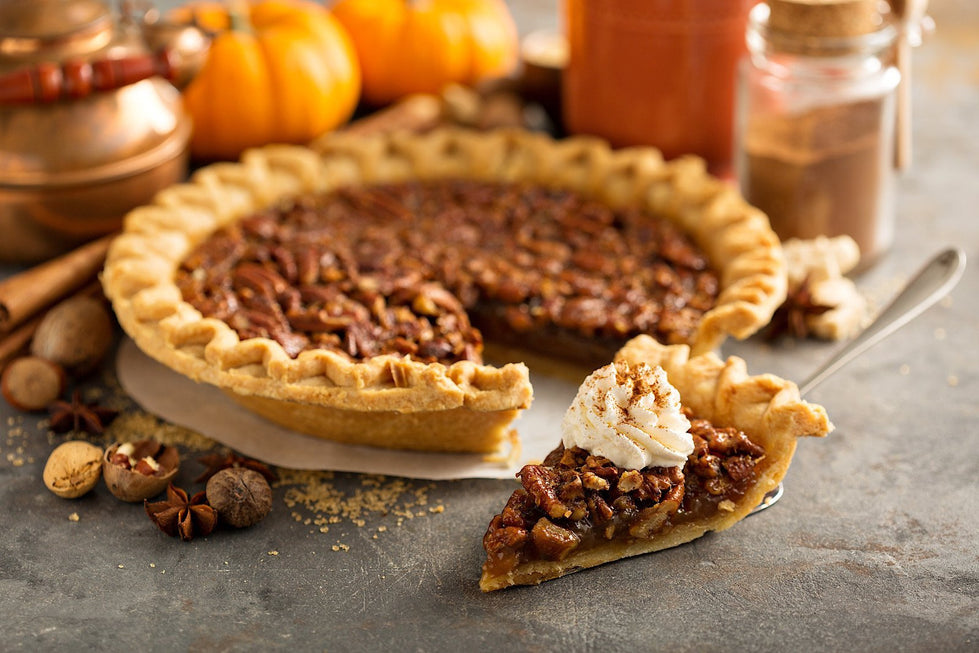 Pecan pies are a traditional dessert without which no Thanksgiving dinner is complete. The subtle flavors of each of its essential ingredients are what set this pie apart from other sweets. 
This dish is popular for its nuttier flavor and texture. Since it is an old American dish, the traditional pie has its own technique. You have to make the fillings with specific ingredients in certain quantities to enjoy its original and unique zest. 
What Things do You Need To Make Pie Filling?
The core ingredient of the filling is obviously pecan. Besides that, you can use several other ingredients to enhance its taste, make it sweet, and keep it soft. These include:
Dark brown sugar

Butter

Granulated sugar

Salt

Vanilla extract

Eggs
Some people also go for variations to make a much richer and tastier pecan pie filling. Although they are not common, people use them as an alternative to corn syrup, which has a high-calorie count. The variations include molasses, maple syrup, sugar syrup, cane syrup, and honey. If you want to enjoy the original pecan, then avoid using any alternatives. 
How to Make Your Own Pecan Pie?
Here are the steps you need to follow to make your pecan pies with homemade pecan filling.
Preheat your oven to 400

0

F. 

Roll your pie dough and fit it into a pan. Line the dough with aluminum foil or parchment paper, and fill it up with pie weights. 

Bake it for 10 to 15 minutes until it gets light brown.

Take out your pie crust, and lower the temperature to 350

0

F. 

Take a bowl and add syrup, butter, and sugar to it. Mix them well. 

Then add eggs in it, and mix again. 

Add salt and vanilla extract. 

Based on your preferences, you can either cover the base of the crust with chopped pecans or add pecans to the mixture. 

Pour the mixture on your crust slowly.

Bake for around 50 minutes at the suggested temperature until the knife comes clean when you put in your pie while it is in the oven.
Your pecan pie is ready! If you love chocolate, you can also add it to the base of the crust before pouring out the mixture. This will make it taste chocolaty with nutty. 
Bake Ahead
Pecan pie is a delightfully rich dessert that you can bake ahead of time. Hence, no need to prepare desserts at the last moment when you have other things to do on Thanksgiving. 
All you need to do is to make the filling days before the occasion and keep it in an air-tight jar. Make sure that jar is tightly closed and place it in the refrigerator. 
Moreover, you can also make the pie dough 1 to 5 days in advance. You can also bake your pie completely a day before the event and keep it in a covered container at room temperature overnight. 
Bottom Line
So, now you know how to make scrumptious and mouth-watering pecan pies. If you are planning to bake it two days or more before the holiday feast, make sure to keep it in the refrigerator to prevent it from getting spoiled.
Sources
https://cookiesandcups.com/easy-pecan-pie-recipe/
https://sallysbakingaddiction.com/my-favorite-pecan-pie-recipe/
https://www.masterclass.com/articles/pecan-pie-origins-variations-and-easy-pecan-pie-recipe#simple-homemade-pecan-pie-recipe