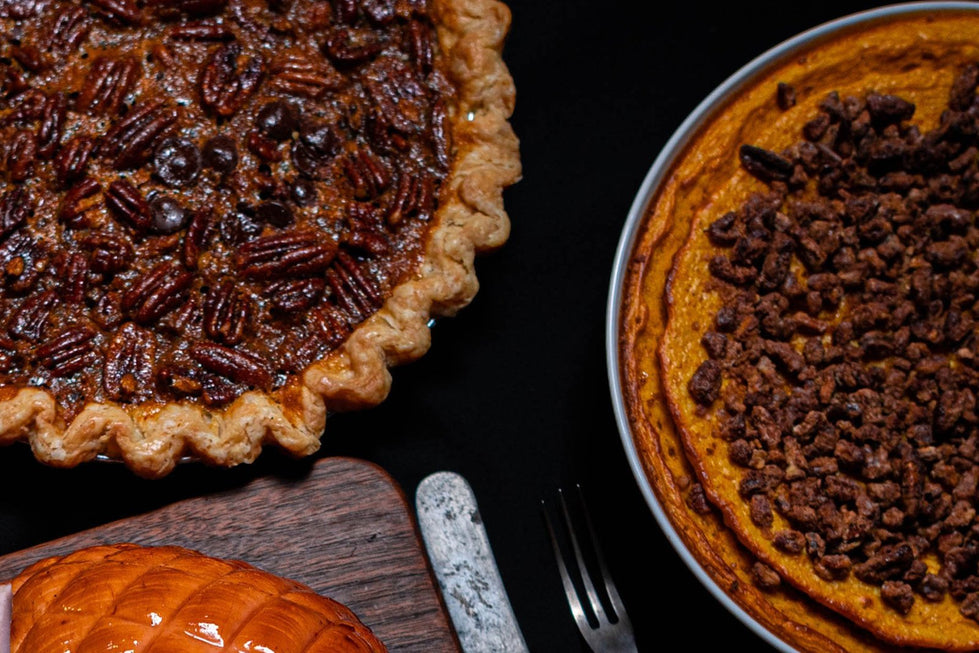 Wondering which one is healthier – Pumpkin pies or pecan pies? 
Both of these pies have their own importance in cultural events. They have mouthwatering flavors that can satiate your cravings. However, if you can't decide which one is good for your health, read the article to get a clear idea.
Pumpkin Pie
When it comes to a pumpkin pie's slice, it offers you 350 calories and 20 grams of fat. Pumpkin itself is a healthy veggie and delivers several nutrients, including Vitamin A and fiber, which are good for vision. 
This orange-colored, nutritious vegetable is also rich in protein, carbs, Vitamin C, potassium, and other nutrients. An average-sized pumpkin usually contains around 49 calories. However, a pumpkin pie is not totally healthy. This is because a pumpkin has a high GI (75), and it can drastically increase your blood sugar if eaten in a large amount. Plus, pumpkin pies have a high sugar content, which can contribute to weight gain.
Pecan Pie
These pies are as popular among Americans (especially Texans) as pumpkin pies because of their mouthwatering and amazing taste. A slice of this pie contains around 620 calories and 38 grams of fat. 
What's more, pecans can provide you a wide range of minerals and vitamins and are considered to be healthy for heart patients. These nuts are also rich in fiber, protein, carbs, manganese, zinc, copper, thiamine, and other essential nutrients. All this makes it an ideal option to munch on a healthy pie. 
So, Which One is Healthier?
Well, we can't name one pie as a healthy choice as both are different from each other. Pecan pie contains more calories but offers you plenty of nutrients that you can't find in any other pie. 
On the other hand, pumpkin pies have a lower calorie content. But pumpkins contain fewer nutrients compared to pecans. Hence, both of these pies are healthy in their own way. 
If you want to consume essential nutrients to overcome your nutritional deficiency, then go for pecans. In case you are planning to lose weight while consuming a low-calorie dessert, then a pumpkin pie should be your choice. 
Tips to Cut Some Calories from Your Pies
Sugar content and crust are the two main reasons that make any pie a high caloric source. If you try to limit their use and look for substitutes, you can make a completely healthy pecan or pumpkin pie. 
Here are the alternatives that you need to know. 
Use skimmed milk instead of whole milk

Consider whole wheat flour instead of refined flour

Use brown sugar as an alternative to white sugar
Avoid corn syrup, and use honey instead
Make your own pie crust, as store-bought crust contains higher calories and artificial content
Opt for Greek yogurt or nonfat sour cream rather than lard or butter
Bottom Line
Pumpkin and pecan pies are both ideal to enjoy cultural festivities and holidays. They are easy to make and offer you mouthwatering flavors. Just make sure to opt for healthy substitutes that we have mentioned above to avoid health issues, such as a spike in blood sugar or weight gain. 
Sources
chowhound.com/food-news/190593/pecan-pie-or-pumpkin-pie-which-is-better/
https://www.foodnetwork.com/healthyeats/2012/11/which-is-healthier-pumpkin-or-pecan-pie
https://www.popsugar.com/fitness/Comparing-Nutritional-Value-Pecan-Pie-vs-Pumpkin-Pie-12068409